Corn Receiving Hours:
*Bids are subject to change without notice*
PLEASE REMEMBER TO STAY IN YOUR TRUCK WHILE WAITING IN LINE. THANK YOU.



Monday, 7/24 - Friday, 7/28 7:30 - 4pm
We are offering FREE DP, pricing deadline 08/31/17. DP contracts must be setup prior to delivery.
*Please note that hours and bids are subject to change without notice*
**Closed on Saturday's and Sunday's.**
Please note our MAXIMUM Moisture is 18%

Please contact the office before delivery if you wish to place your bushels on *DP; otherwise, bushels will be spotted at market close on date of delivery. DP is free for the first 10 days then reverts to normal charges.

(*PRICE LATER CORN (DP) cannot be applied to a forward sale contract and cannot be forward sold.
Pricing must be done during CME trading hours at Buyer's posted nearby bid.) Title of grain passes to buyer upon delivery. DP charges are .10/bu per month, prorated per day. 1st 10 days are free.


POET BIOREFINING

CLOVERDALE

Toll Free Number: Local Number:
877-779-2676 (CORN) 765-795-7240
after hours: 765-795-7214 or 765-795-7216



Kendall Leatherman - Grain Buyer
Direct Line: 765-795-7217
Cell Phone: 765-721-7362
Email: Kendall.Hamilton@poet.com


Michelle Patten - Grain Buyer
Direct Line: 765-795-7216
Cell Phone: 765-721-7239
Email: Michelle.Patten@poet.com




Christine Poole - Commodity Manager
Direct Line: 765-795-7214
Cell Phone: 765-721-7359
Email: Christine.Poole@poet.com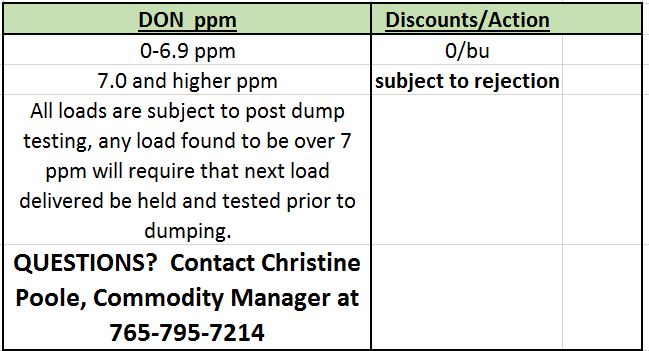 POET Grain will not accept GMO commodities that have not been approved for use in the United States, European Union, Japan, or China. Please check with your seed dealer or the National Corn Growers Association website: www.ncga.com/for-farmers/know-before-you-grow to see which corn hybrids are approved.